Insights from Neil Kranich, a 40+ Year Experienced Electrical Engineer and Transformer Expert
Achieving energy efficiency, environmental performance, and cost savings with remanufactured substation transformers and mobile substations
With updated technology in a time-tested structure, redesigned, remanufactured transformers can deliver performance that meets or exceeds OEM transformers
When a power transformer fails, some engineers or the finance leaders who oversee equipment purchases may immediately look for an OEM replacement. Yet, such decisions rely on assumptions about efficiency or cost that often do not stand up under closer inspection. Put simply, the way in which older transformers were built and the modern technology currently available to support the remanufacturing process create significant advantages to redesigning and remanufacturing medium to high-voltage transformers versus buying new.
In reality, a skillfully redesigned and remanufactured vintage transformer offers benefits that should be appealing to several stakeholders. Engineers, for example, may find the more generous design and larger transformer tanks of earlier designs easier to inspect on site and better equipped to withstand stresses caused by the most common types of faults.
Meanwhile, finance and operations leaders who are watching the bottom line may find that a remanufactured transformer offers increased value because it typically requires less capital and generally can have a longer life expectancy than new. Because of their robust design, remanufactured transformers generally run cooler, which extends the thermal lifespan of the insulation. Finally, environmentally conscious utilities will appreciate that a remanufactured transformer has a significantly smaller carbon footprint than buying new, with the reuse of the core, tank, and radiators.
Built to last
The advantages of remanufacturing a transformer start with design. Set a new transformer next to a vintage transformer built years ago and it's clear that priorities have evolved. Today's transformers are designed with finite element analysis programs that measure tolerances to the tiniest margin of error. Yet the reality of the current competitive climate means that such precision is deployed primarily in the interest of reducing costs in a very competitive low-bid-gets-the-deal marketplace. In order to hit those cost targets, new transformers are designed to operate with the smallest possible tanks and cores and with the least amount of copper and oil as possible to meet minimum specifications.
By contrast, transformer design engineers in the pre-computer design era were more generous with their design, with significantly larger design tolerances. In addition to allowing older units to run cooler, that more generous structural design also means these transformers are better able to withstand the stresses caused by the most common fault currents and overloading. Simply put, these older transformer were built to last, not win bids.
Utilities that are in the market for a new transformer should be aware of and consider the following benefits of redesigning and remanufacturing their existing transformers before purchasing a new unit.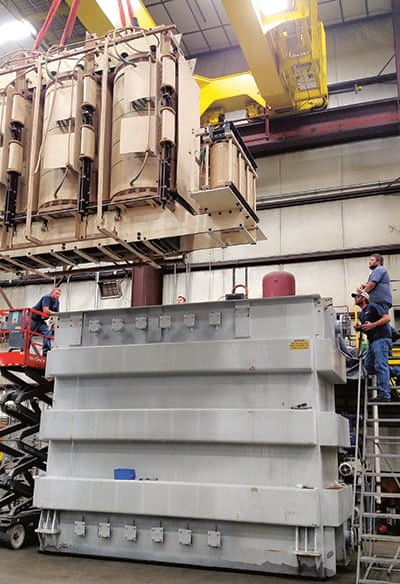 Jordan Transformer employees tank the core assembly on a 50/93 MVA 138 kV Waukesha following redesign and remanufacture.
Jordan Transformer remanufactured this 12 MVA 13200 x 13200Y – 420 to 128 v. Westinghouse furnace transformer with new Nomex-insulated windings and added a new series reactor with motorized tap changer for arc stabilization.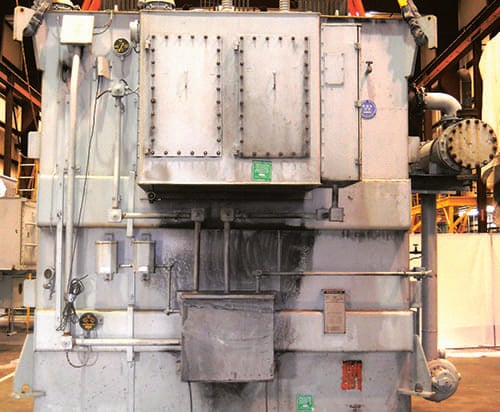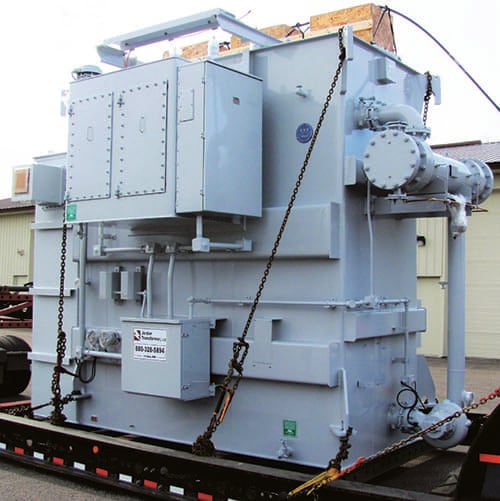 The Benefits of Remanufacturing
Why choose remanufactured over new?
Plug-and-play functionality:

Redesigning and remanufacturing an existing transformer establishes a plug- and-play connection to its original substation footprint. In other words, there is no need for costly adjustments to lead lengths, footings, conduit runs, or ductwork. Normally, replacing a transformer with a unit of a different size requires costly reconstruction and a re-engineering of the substation. By contrast, redesigning and remanufacturing the existing transformer allows everything to fit seamlessly.
Environmentally friendly:

Building a transformer consumes significant quantities of steel and copper. And, unfortunately,

costs

of those commodity

materials

have recently skyrocketed. That consumption of raw materials also comes with an environmental cost. On the other hand, remanufacturing an existing transformer requires substantially less net-new commodities than building new because the tanks can be reused, reducing the carbon footprint when compared to buying new OEM equipment.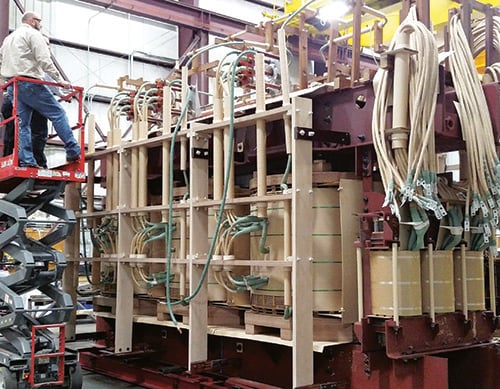 Conducting a customer pre-tanking inspection of a remanufactured 60/112 MVA
138kV McGraw with Reinhausen LTC retrofit.
Robust design coupled with today's best practices:

A redesigned and remanufactured transformer delivers the best of both worlds: A robust design coupled with today's latest design software and using state-of-the-art materials. The result? A transformer that stands the test of time and is more resistant to fault damage and overload conditions.



Room to work:

The generous size of older transformers results in additional room in which technicians can perform internal inspections and
potential repairs. Additionally, larger tanks have room for more oil, allowing the transformer to run cooler and extending its lifespan. The more
robust design also typically stands up better to the stresses caused by common fault currents. And because current design technology allows
for more efficient core windings, it's possible to incorporate extra capacity with little to no additional cost.
The Jordan Transformer Advantage
Choosing a redesigned and remanufactured transformer from Jordan Transformer allows utilities to benefit from the modern technology and design standards used by leading OEMs while still enjoying the robust physical design of an older unit. For example, Jordan Transformer uses the same Anderson FLD12 short circuit design program employed by OEMs; state-of-the-art materials and technology; and even works with the same suppliers as leading OEMs. But because Jordan's team of expert engineers takes a hands-on, customized approach to each remanufacture job, they are empowered to customize upgrades to a unit that maximize performance for the customer.
Depending on the demands of the job, Jordan Transformer engineers routinely improve the clamping system of the original transformer, and can also increase capacity or perform voltage changes on a transformer. Jordan Transformer has Class II testing capabilities to prove their design and materials. In addition, all coils are precision-wound by hand and Jordan engineers can incorporate the latest relaying, monitoring systems, and LTCs, to deliver a high-performing unit.
Value for your money
By some estimates, redesigned and remanufactured transformers may cost up to 20% less than buying new, though there are cases where OEM equipment may be similarly priced. When evaluating repair versus buying new it is important to consider overall value. For example, remanufactured transformers typically have more copper and oil than their newer counterparts for the same MVA capacity, which can translate into better longevity. Remanufactured transformers also typically have lower total cost of ownership, starting with lower upfront capital requirements and lower ongoing operational costs. Finally, transformers remanufactured by Jordan Transformer incorporate the latest technology into an upgraded transformer design.
The Experience and Creativity to Make a Difference
Jordan Transformer has 50 years of experience in the transformer utility industry. We redesign and remanufacture power transformers with each customer's unique application in mind. Jordan Transformer is one of a very few companies in the United States that is dedicated to remanufacturing and upgrading existing mobile substation transformers, which is a more complex technical challenge than building a stationary transformer.
Top engineering talents come to Jordan because they want an opportunity to challenge themselves and further finesse their skills. Having the freedom to use their creativity allows Jordan engineers to identify an innovative solution for every project that comes their way.
That demand for creativity gives Jordan Transformer engineers the depth and breadth of experience to design a transformer to meet the specific requirements of the job. In fact, they often are tasked with redesigning a better and higher performing transformer from the original transformer, providing custom options that are not always available from OEMs.
What's best for a given transformer replacement project will depend on a number of factors, from the condition of the equipment being replaced to space considerations at the installation site to the need for additional capacity. Before deciding, however, it is important to consider the potential cost and performance advantages associated with choosing to remanufacture versus buying new.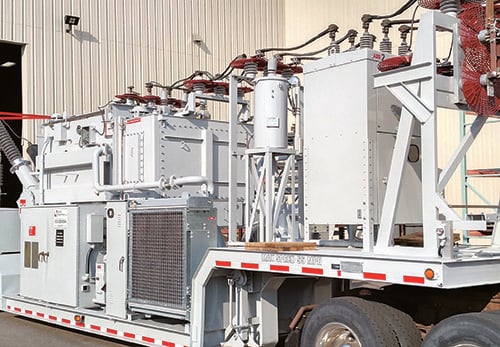 Jordan Transformer remanufactured and upgraded this 28 MVA top rated 138kV Westinghouse mobile substation with LTC.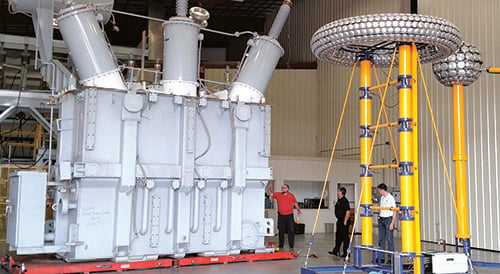 Pictured in our Class II test bay, Jordan Transformer redesigned this 85 MVA transformer to different voltages with a 17% upgrade to 100 MVA.
A personal perspective:
Old-style quality meets modern technology
Neil Kranich reflects on changes in the transformer industry
Comparing a modern OEM transformer to one built even a few decades ago is a little like comparing a 1957 Chevy to a new Prius. The older equipment stands in such stark contrast to the new that you might even wonder whether they're built for the same purpose. This evolution is in part due to technological advances, but it's also a factor of the market.
Historically, engineers did not have to compete with overseas companies for low-bid contracts. They were allowed to build transformers with a generous design that weathered fault currents better than their modern counterparts. Further, thanks to the larger volumes of copper and oil, older transformers run cooler, increasing the thermal life of insulation components.
But all that has changed. Today, computers are essential, and they allow engineers to design equipment down to a hair's breadth, with not an ounce of conduit or quart of oil that is not absolutely essential. The good news is that utilities don't have to choose. With a remanufactured transformer from Jordan, buyers get the generous design and build of an older transformer supported by the latest engineering software and modern materials.
More importantly, the engineers at Jordan Transformer are the best I've worked with in more than 40 years in the industry. They are like the Navy Seal level of electrical engineering. Most, including myself, have worked at OEM companies before coming to Jordan Transformer to escape the cookie-cutter nature of OEM projects and challenge themselves with jobs that require every bit of their knowledge, resourcefulness, and creativity.
As a result, the transformers they redesign and remanufacture offer the best of both worlds. Think of it as Prius technology in a classic car body.