Remanufacture

Your Substation Transformer
Why Remanufacturing Wins
Get your transformers in half the time OEMs can deliver
"They don't make 'em like they used to." Your substation transformer is valuable. Don't throw that away: remanufacture, reuse, and save. In the 20th century, substation transformers were designed with reliability in mind—thick steel tanks, spacious tank interiors, and plenty of copper. This "greater design margin" approach kept substation transformers running cooler, extending their life expectancy. Solid, older substation transformers are the key to remanufacturing America's power grid to be stronger than ever.
At Jordan Transformer, we specialize in rewinding and remanufacturing your substation transformers with base ratings from 10MVA-80MVA and 69kV-230kV with complete Class II IEEE testing.
Remanufacturing Substation Transformer Process Flow
Freight
↓
Un-Tank
↓
Inspection
↓
FSOW Report
Electrical
↓
Leads
↓
Controls
Rewind
↓
Core re-Build
↓
Radiators
↓
Assemble
↓
Tank*
Preliminary
↓
Full IEEE Testing*
* indicates typical customer witnessing opportunities during the process
Final Paint
↓
Freight
↓
Installation
Dedicated Remanufacturing Facility Capabilities
Rewinding means a custom rebuild for your unique transformer and substation requirements.
This effort requires and is performed in our dedicated 70,000 sq foot remanufacturing facility situated on 15 acres in Jordan, MN, which contains:
Winding room environmentally controlled

9 specialized winding machines with an 80-ton and 200-ton coil sizing apparatus

Core and coil assembly room temperature controlled
Drying oven for completed coil assemblies
Drying oven for completed core and coil assemblies
Sandblasting booth, external dedicated building
8 separate oil tanks (total 40,000-gallon oil farm)
8 storage buildings for components in waiting
13 cranes and hoists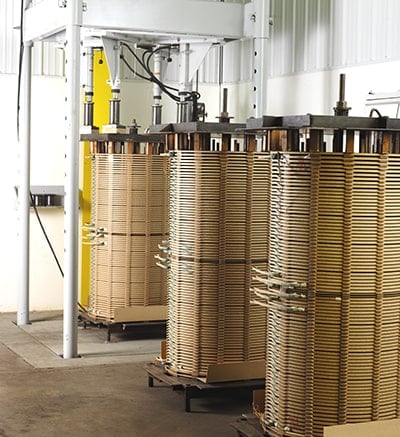 The dedicated high-bay has a 50-ft ceiling to accommodate large substation transformers. The bay includes:
An 80-ton overhead crane

A 50-ton overhead crane

Two paint booths with high ceiling for transformers and components

Hot oil processing system—customized for transformer application

Welding cell 3,600 sq ft with 50-ft ceiling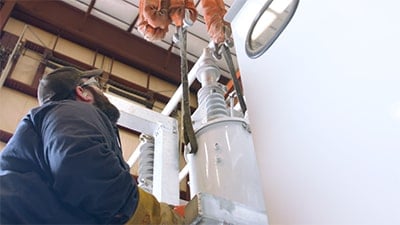 The dedicated test facility
Impulse and partial discharge testing

Impulse generator GTU 1000 kV - 50 kJ with SDA12-bit digital scope

300 kVA / 180 Hz generator with partial discharge monitoring

300 kV hi-pot transformer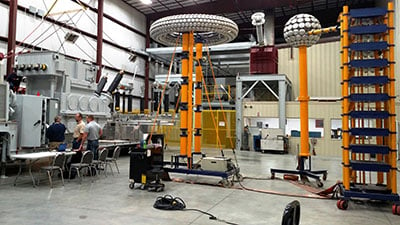 Experience Remanufacturing These OEM Transformers
ABB
Allis-Chalmers
Brown-Boveri
Central
CG Power
CGE
Delta Star
Eastern
ELCO
Federal Pacific
Federal Pioneer
Ferranti-Packard
General Electric
H.K Porter
Hevi-Duty
Howard
ITE
Kuhlman
MagneTek
McGraw-Edison
Moloney
Neeltran
Niagara
North American
Pacific Crest
Pauwels
Pennsylvania
Prolec
RTE/ASEA
Siemens
Sonmez
Standard
Tamini
Uptegraff
Virginia
Wagner
Waukesha
Westinghouse
What are the advantages of remanufacturing a substation transformer versus the alternative of buying new?
A1: Reusing the core steel and tank of an existing transformer offers substantial savings in both price and lead time.
A2: The savings are even more dramatic when reusing the LTC within a transformer, which is often!
A3: Our turnaround time is typically months less than new OEM manufacturers which require extensive design time for new transformers.
A4: No sacrifice in quality or life expectancy and all transformers are upgraded to today's short circuit design standards.
A5: Your remanufactured transformer will have a drop-in form, fit, and function, whereas new typically requires substation design modifications.
Do you work on furnace transformers and rectifiers?
Yes—we are experts with both.
Do you buy surplus transformers?
No, we remanufacture your substation power transformers that are failed or gassing.
Available Upgrade Options